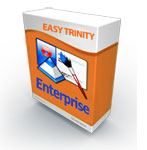 Enterprise Edition ID Software
Is a powerful and innovative system that was designed to meet ID needs of any organization that is concerned about security and digital identity.
Enterprise Edition is equipped with a full internal Microsoft Access database, and ODBC connectivity to any type of external databases. Enterprise Edition advanced networking and database tools allow users to easily monitor and manage their ID needs simultaneously over several locations, multiple operators and different departments. Enterprise Edition ID Software will provide you with the complete ID plastic card solution for your organization.
Easy Card Creator Enterprise Edition is the perfect photo ID card software for organizations that operate over a corporate network. Multiple operators and different departments can easily design, create, update and maintain multiple shared records in real time.
Enterprise Edition ID Card Software is packed with whole variety of features and capabilities. Easy Card Creator Enterprise Edition is ideal for corporations, schools and businesses that need plastic employee tag, medical ID and security badge management.
Incorporating an industry leading information management platform, database connectivity, design and automation tools, Enterprise Edition ID Card Software offers more productivity and flexibility to users than any other solution available in the market today.
Easy Card Creator Enterprise Edition ID Software is the industry leading solution for secure ID card production. Print different types of barcodes, magnetic stripe, biometrics, watermarks, photos, logos and more. Print to plastic PVC cards, paper badges, labels, envelopes and business cards. The applications for our ID card software are endless, ranging from medical ID to employee tags to security badges.